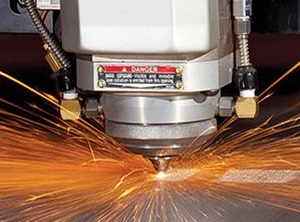 Gauer's Automated Laser Cutting System
The Gauer Fabrication Division has added new laser cutting capabilities to its "in house" services. This addition gives the company improved flexibility in producing quality sheet metal parts at an inexpensive price. This new automated laser cutting system can accurately cut steel plate up to ⅞ inch thick, with use of water assisted cutting and various assist gases. The automation aspect of the machine will ensure that quality parts can continuously be cut with very little downtime.
This is all part of Gauer's continuing commitment to maintain its competitive edge in the industry, this practice was instilled in into the core of the corporation by its founder Walter W. Gauer. Gauer Metal Products has been an industry leader for over 70 years and works tirelessly to expand the capabilities and the services that we can offer to our customers.